NEWS:
25.11.2016
Riistetyt has a new permanent drummer as Seve joins band officially!
He has played all Riistetyt gigs this year as Perttu hurt his hand last year.
Thanks for all these years for Perttu and get yourself back in business bro!
Riistetyt XXXV World Tour continues next year, more information soon...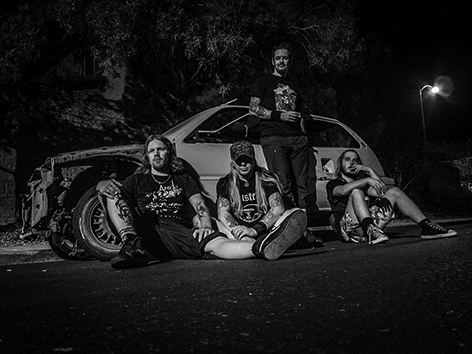 13.11.2016 After U.S. West-coast tour (16 gigs) and scandi-tour (with Crutches) we are having a little break.

15.02.2016 Riistetyt will play few gigs in this spring. Drums will be played by Seve (ex-Akupunktio, Kohu-63 etc.) as Perttu hurt himself at skate-accident
04.03.2016 Tampere @ Varjobaari w/ Kumikameli, AOM, Underclass
05.03.2016 Helsinki @ Lepakkomies w/ Kumikameli, AOM, Underclass

05.05.2015 Gigs with Terveet Kädet:
09.10. @ Tampere, YO-talo (+ Silminnäkijä);
10.10. @ Helsinki, Nosturi (+ Lapinpolthajat + 1)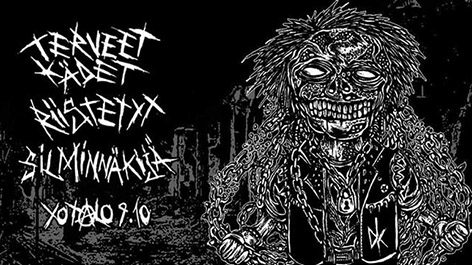 05.05.2015 Short Russian-tour dates & more gigs here >>>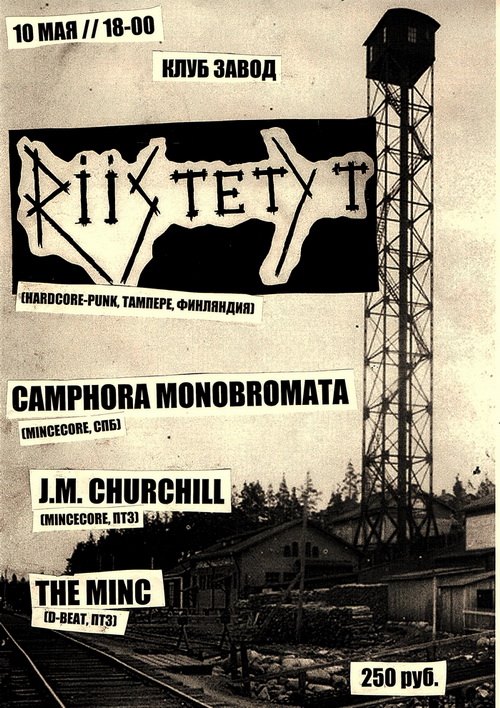 04.05.2015 В матушку-Россию едут адепты (Риистетют) >>>
25.09.2014 Ox-fanzine interview here. Danke schön for pdf guys.>>>
22.01.2014 Updated gigs here >>>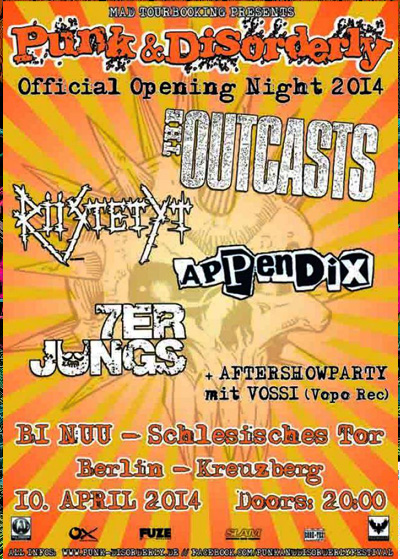 08.01.2014 Upcoming gigs:

31.01.2014 Äänivalli, Helsinki w/Mob 47, Terveet Kädet, etc...
14.02.2014 Henrys, Kuopio
05.03.2014 On the Rocks, Helsinki
06.03.2014 Klubi, Turku
07.03.2014 Monttu, Pori
08.03.2014 Vastavirta, Tampere
07.01.2014 New t-shirt is on sale @ Stupido records. size: s/m/l
price: 15€ + p&p 4€ Tilausohjeet: >>> How to order >>>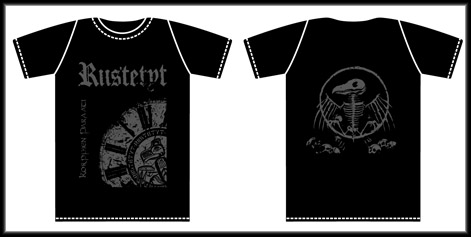 13.12.2013 Korppien Paraati LP insert artwork by Make Takomo (www.takomotattoo.com/) >>>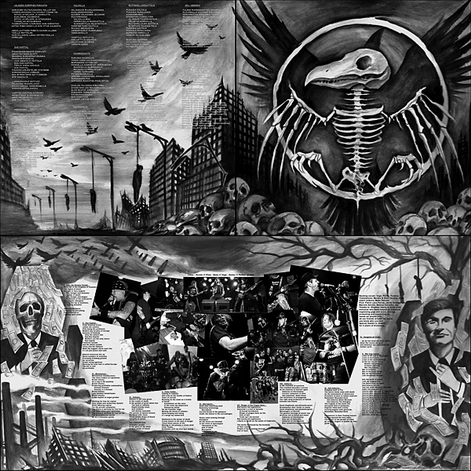 29.11.2013 RIISTETYT LAPINPOLTHAJAT KIPINÄ @ Vastavirta, T:re
Release gig and party for a new album "Korppien Paraati", be there or don't !!
Uuden "Korppien Paraati"-levyn julkkarikeikka !! Samalla juhlistamme Kämäpresidentin vanhenemista. >>>

14.10.2013 "Valhalla" video @ youtube >>>
05.10.2013. 4 mp3-samples from new album "Korppien Paraati" >>>
12.09.2013. Scandi-tour confirmed:
24.10. Oslo @ Barrikaden
25.10. Gothenburg @ 128:A
26.10. Stockholm @ Kafé 44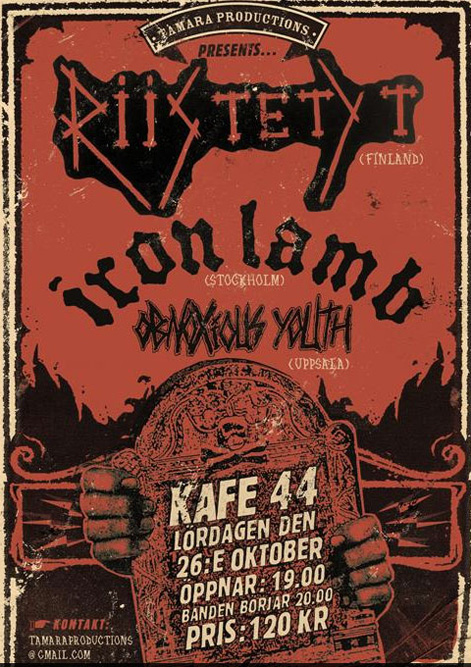 La 01.06. Suisto-klubi, Hämeenlinna
IMPACT FEST 2
Riistetyt , Crack queens, Ahneus
Liput: 6e, 2 pv lippu 10e sis. narikan ->>>
25.05.2013 Live @ Pormestari, Vantaa: Riistetyt; Kohu-63 & Kadotetut. Liput 10€, klo 19
09.03.2013 Osuuskunta 82 festarit: Riistetyt; Wasted; Punk Lurex; Diskelmä; Lapinpolthajat; Positive Bastards; Baltimor; etc.
15-16.3.2013 Liput pe 6 e / la 7 e 2 päivän lippu 12 e
Ravintola Lepakkomies K-18 Helsinginkatu 1
Lauantaina levymyyjäiset ja kirpputori klo 13-16.. >>>

08.02.2013 New shit comes alive! "Das Kapital", Sample-track from upcoming album @ mp3-page. >>>

03.01.2013 T-shirts on sale at Kämäset Levyt. "Inferno do Artico" with tour-dates on back. Sizes: s/m/l/xl
(10€ + p&p) >>>
17.12.2012 Inferno do Artico Brazil 2012 is done! Thanks a lot for everyone who show up and people who were involved!! Muito obrigado!!! >>>

28.10.2012 Brazil-tour dates confirmed. >>>
25.05.2012 Riistetyt is now writing new songs to upcoming 10"/12" record and playing some summergigs.>>>
More gigs are welcome. Booking contacts here: >>>
03.03.2012 (sat) Klassikko-albumit goes Hard-core: Riistetyt, JMKE, Terveet Kädet & Appendix plays Helsinki @ Nosturi & Tampere @ Klubi
04.02.2012 Lazze's birthdayparty @ Vastavirta, Tampere w/ Lapinpolthajat, Anti-Klimax

21.05.2011 No Pasaran -video by Jim Martin (Vex records, Broken) @ Youtube >>>

17.03.2011 Jukkeli quit playing drums in Riistetyt in the end of 2010. Perttu is now back to drum with us, so it stays in the family. There is no drama behind this and Jukkeli still stays in the background - already organizing the first gig with the new line-up (Lazze-Vege-Piise-Perttu): 27.April (wed) at Vastavirta, Tampere with our friends PARASYTIC from Richmond (usa) and the mighty Diskelmä. So expect a nice party!

"Thanks to Lazze, Vege, Nappi (r.i.p.), Piise and all the Riistetyt friends worldwide for awesome (almost) 4 years!!! 93 gigs in 19 countries, 1 lp, 1.000.000 beers and a big pile of broken bones" -Jukkeli

31.01.2011 Nappi slept away this morning. R.I.P.

10.08.2010 Balkan/Italy-tour looks fantastic! Just waiting for the last info about the gigs and it's all fixed. We will also make a weekend trip to Germany 01-03.October (Hamburg-Berlin-Leipzig). Hope to have more information about those german gigs soon... this saturday is another gig at Vastavirta again...
15.06.2010 Punk Illegal -festival in Sweden was great! Thanks a lot for everybody involved. Oslo was cool as well. Now it's time to heal the broken bones again...
03.06.2010 "Kuolonhymnejä" LP re-press is here since yesterday! It comes with a slightly different cover.
03.05.2010 USA tour was a blast! Awesome gigs, perfect organization & road crew, cool people, hospitality and partys. Special thanks goes to Matt, Shravan & S.S.R. dudes, Janick, Skell, Jim... Big thanks also to everyone who booked the shows, made food, played or just got wasted with us... you know who you are! If you have some photos / videos we would be more than happy to get some! Fuck off goes this time to NYPD and CPD.
You can find some live videos / photos etc. from here: >>>

04.03.2010 CD version of "Kuolonhymnejä" album is out today!
Also found a few last copies of "Kuka valehtelee" lp if somebody needs that one...
20.12.2009 We are having a small and deserved break with gigs now.
If you wanna distribute the new lp, get in touch. It's going well and the 1st pressing won't be there for long... no trades, sorry...
06.11.2009 THE NEW LP IS HERE!!!ALSO THE NEW HOMEPAGE IS HERE WITH LOT OF NEW & OLD STUFF!!!
TODAY WILL BE LP RELEASE PARTY AT VASTAVIRTA, TAMPERE. WELCOME AND GET DRUNK!!!

Thanks for Alejo and whole Totälickers for all help in Spain!
Test pressing of the new lp is here and sounds very good. Hope we'll get the records here for the gig on 6.11. in Tampere...
24.09.2009 Small update for Spain tour dates. Mastered version of new lp is also here!
14.09.2009 Play Fast in Czech was fucking great. Because of heavy storm our plane was late and we missed the connection flight in Wien. So our gig had to be changed to saturday. Sorry for the mess and thanks for flexibility for the festival crew! Hope the festival happens next year as well.
Since last update we have also visited in studio recording songs for a new lp. It's now to be mastered and hope we can make it ready for the gigs in Finland in November... but let's see...
Spanish tour dates are now all there. Great to be there and play most of the gigs with friends from Totälickers! Also few gigs in Finland are fixed: Tampere, Pori and Helsinki.
01.08.2009 We played a surprise gig at Puntala-festival last weekend.

26.6.2009 Back home from Trash-fest. Thanks for the fest-crew, Koop, Jenni & Jim +other Groningen family. Extra special thanks goes to Dirk for inviting us and rescuing the symbals!
We have some nice t-shirts and back patches available now. Just get them at Ilosaari or Puntala festivals!
15.06.2009 Be-Part festival was great. The way back home was close to a disaster but we made it. Thanks to organizers and cheers to all the friends who were there.
This week we'll play Trashfest in Holland on friday and Haag on thursday. Amsterdam show is cancelled and moved to Pirate bar in Haag / Scheveningen - by the beach of course!!!
13.05.2009 Turku hc fest was cool.
05.05.2009 We will play at "Play fast or don't" festival in Czech Republic on September. Tons of good bands to check out: www.myspace.com/playfastordont
09.03.2009 One more gig confirmed... happy to play with our mincecore friends Agathocles from belgium again! Hope our gig will be better than our last time in Lahti...
05.03.2009 Thanks everyone who helped us on tour in Holland & Belgium! Tour was really nice but we got totally sick... We'll be back in Holland for the Trashfest and Amsterdam in June!
17.02.2009 Leaving to Holland/Belgium tomorrow...
some more shows/festival gigs booked: Raw Power gig / Tampere, Turku HC fest, Be-Part fest / Stuttgart, Töminä/Ilosaarirock...
21.01.2009 UK/EIRE tour was great! Thanks a lot for everybody who helped us and had party with us, too many to list but you know who you are. We'll be back. There was some talks of some festival shows in the future...
Lasses birthday party in Tampere was also great. Passed out punx on stage, broken bones, sorbus...
Laki ja järjestys 7"ep is also re-pressed by Höhnie Records (Germany)
11.12.2008:
HOLLAND/BELGIUM-TOUR is now booked. Here are the dates:
18.2. NL Utrecht @ Acu w/ Human Dog Food (Fra), Svarta Lagor
19.2. B Liege @ Carlo Levi w/ 't Vettig Front
20.2. B Antwerpen @ squat 'de Koevoet' w/ 't Vettig Front
21.2. NL Drachten @ Iduna w/ UK Subs (Uk)
22.2. NL Groningen @ Crowbar

10.11.2008:
UK/EIRE-TOUR is now booked. Here are the dates:
14.1.2009 IRE Dublin TBC
15.1.2009 SCO Edinburgh @ Henry's Cellar Bar
16.1.2009 UK Bradford @ 1 In 12 Club
17.1.2009 UK London @ the Grosvenor (Brixton)
18.1.2009 UK Bristol @ the Queens Head
01.10. 2008:
Long break since last update. A lot of things happened since that.
Biggest news is that Nappi left the band in spring. No use to make any rumous about that, there's no disasters considering that. Anyway, we are back with Piise on bass! As you might know he is the original Riistetyt bass player, played already in Cadgers and is now in the band for the 3rd time...
We will have the first gig with this line-up on 22.November 2008 in Helsinki @ Domino (Puistola). It's a memorial show of Jone, the singer of Varaus, R.I.P. Other bands playing areMaho Neitsyt, Kohu-63, Kieltolaki and Kuolema.
Jukkeli started taking care of this homepage (as well as Riistetyt myspace shit). Hopefully the pages will be now updated more often. So, if you need to talk to Nappi, please use his personal e-mail.
More news coming soon.....


(TO OLDER NEWS ->)